Ser single é mais lucrativo em Portugal
Os 15 mais caros discos de edição portuguesa vendidos no eBay, segundo o popsike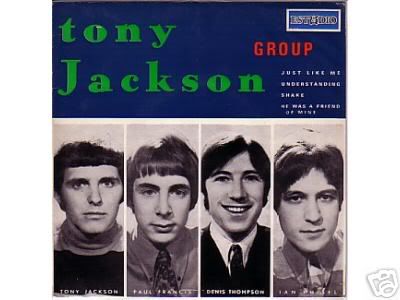 1.
Tony Jackson Group
"Just like me" (Estudio) (2000 euros)
2.
Episode Six
"Morning Dew" (Pye) (1200 euros)
3.
Queen
"Keep yourself alive" (EMI) (880 euros)
4.
Queen
"Now I'm here" (EMI) (880 euros)
5.
Fabrizio de Andre
"Caro amore" (Alvorada) (780 euros)
6.
Queen
"Killer Queen" (EMI) (571 euros)
7.
Queen
"Seven Seas of Rhye" (EMI) (510 euros)
8.
The Beatles
"I'm looking through you" (468 euros)
9.
The Sex Pistols
"Silly Things" (Virgin) (460 euros)
10.
David Bowie
"Up the hills backwards" (RCA promo) (451 euros)
11.
Johnny Halliday
"Hey Joe" (Philips) (436 euros)
12.
Roger Taylor
"Beautiful Dream" (EMI) (370 euros)
13.
Bruce Springsteen
"Santa Claus is comin' to town" (?) (210 euros)
14.
The Rolling Stones
"The Last Time" (Decca) (158 euros)
15.
Saga
"Homo Sapiens" (Movieplay) (150 euros)
Isto não é, nem pouco mais ou menos, uma lista dos discos portugueses mais valiosos. São apenas os discos com referência explícita a Portugal ou ao facto de ser português no título do leilão na eBay. E isto pretende ser um pequeno alerta para quem anda nas lojas a fazer
diggin'
para andar com os olhos bem abertos por estes discos. Porque houve quem pagasse mais do que 50 cêntimos por eles.
Todos os discos são 7" (singles e EPs), à excepção do "Homo Sapiens" dos Saga, que é um álbum em 12".
A busca foi feita no
popsike
e as únicas palavras colocadas na busca foram "Portugal" e "portuguese". Nos casos em que o mesmo disco foi vendido a preços diferentes em alturas diferentes, foi colocado na lista o disco com o preço mais elevado e os restantes foram ignorados.