Keep on dubbin', Forrrce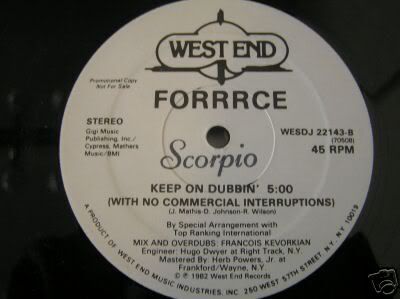 São coisas como a razão de ser deste post que fazem com que a internet seja, provavelmente, a maior invenção de todo o sempre. A facilidade de contacto entre pessoas nos mais variados pontos do planeta, e ainda por cima em tempo real, é, pura e simplesmente, algo que até há bem pouco tempo (há 15 anos atrás!) era impensável.
No fórum da djhistory, a propósito dum mix do
Greg Wilson
para a
Red Bull Music Academy
onde ele tinha incluído o muy bello (mas muy caro) "
Keep on dubbin'
" dos
Forrrce
, aparece, ninguém sabe muito bem de onde, o
General Thunder
, um dos membros da banda, todo satisfeito por causa da segunda vida que o disco anda a ter (merecidamente - a pós-produção do
Kevorkian
é soberba!).
Vai daí, o Greg Wilson cria uma mini-entrevista entre os membros do djhistory e o General. Entrevista essa que podem ler aqui em baixo.
Primeiro post do General.
Hello Guys/Chaps,My name is Mike, AKA "General Thunder" (Bass & Guitars), of the original Forrrce.I'm not sure if you heard it, but we also had a pretty nice rhythm break tune back then too labeled "Listen To The Rhythm Band" [enquanto MD-20-20], that was later covered by BT Express.I'm thrilled that "Keep On Dancin/Dubbin" has been revived and is so well accepted.

With the new re-surge in popularity, we are even considering doing a reunion CD and Euro tour. Would you be willing to share a copy of your remixes with me?

Thanks,The General
Regresso dos Forrrce? Bela notícia.
Depois dos cumprimentos ao General por parte de alguns membros, comenta-se o preço proibitivo do original na West End e o General diz:
I have seen some of the prices of the 12" record... astronomically high, even in the US.
Sounds like we need to get some re-mastering done to control the costs.
Just think, back in '82, the 12" "Keep On Dubbin' " cost $4.95 (US), which we all thought was a little pricey. The DJ Shops in NYC could not keep copies in supply. Thank goodness that most of the copies went to DJ's.
I think that the DJ's were the key to our survival.

I have always enjoyed producing 12" mixes over standard album projects.
In that time period, I was also involved in some Sweet Mountain, Quest, and TRI 12" projects with artists such as [Reggie] Griffin & Technofunk like "Mirda Rock"... Heard that one?
(Por acaso, não, mas vou estar atento. Ainda por cima, se, como dizem no fórum, é a base do "
In the pocket
" dos
Dynamic Duo
, na
Nu Groove
)
De seguida, uma das maiores autoridades na época, o inglês
Sean P
coloca a seguinte questão:
(...)It would be nice to know a little history behind the band(s). Apart from the two "[Listen to the] Rhythm Band" titles and "Keep On Dancin'", were there any other recordings as a group? And how did the Tommy Cowan/Top Ranking link up come about?
Incidentally, I proposed the MD-20-20 track for a compilation I was involved in around 4 years ago, but we couldn't find anyone connected to approve it (though to be fair, we had a lot to getting on with otherwise). Good to know that the band members are still around and into music.
Resposta do General:
There were hundreds of hours of 2" Masters done with Forrrce, we produced 2 full albums, the first, titled: "Listen To The Rhythm Band", an all dance album, was to be released on Atlantic Records in '81. At the last minute, TRI leased the master for the title cut for a substantial deal. B.T. Express later did a remake of "Rhythm Band".

We chose to lease the "Keep on Dancin' " cut to West End shortly after since we really wanted to break out of New York to penetrate the underground market. It worked, they couldn't press records fast enough. Our biggest "hit" for this album, "Dappa Dan" never got released. We are still scheming to turn this one loose!
The second full album, "American Reggae", was a long and exhaustive project. Yes, Tommy Cowan inspired the feel. It was powerful and full of political overtones. I also played some solo guitar on this one. Jesse flew in musicians from Kingston "just to keep the riddims tight". Atlantic liked only half of the project and urged us to catalog the album for publishing. We managed to get good exposure with a major-city US tour. We also filmed a Music Video to get on BET & MTV. We took a brief hiatus and some of us further broadened our musical horizons.
Personally, I'm not sure how long Tommy had TRI projects going before we arrived on the label.

All 3 of the main writers of MD 20-20 and Forrrce are still in the business.
De seguida,
Lexx
(que vai editar um belíssimo maxi na
Bear Funk
dentro em breve) faz a pergunta que eu mais gostava de ver respondida:
did the group choose francois kevorkian to do the mix or was that an arrangement by the label?

(i think fk's work, especially on the b-side has done a lot for this record to reach the classic status.)

and do they roughly know how many copies got pressed?
Ao que General responde:
It happened as a voluntary act, on FK's part. He heard it down in Florida and just wanted to contribute.

Actually, Jesse and Francois hit it off so well that we knew that he would work the track with passion. That he really did.
We offered him our 2" Masters with full run.
He went to work right away. I remember when he would call us over with 10 or 12 killer remixes. It was hard to decide which one to go to press with.

Numbers are questionable, especially the way that the 12" street copy took off.
Maybe 25,000 worldwide?
There were probably 1000 or more promos that were mastered exclusively in the "B Room" at Frankfort Wayne, which was famous for the absolute hottest 12" records in the world.
Hottest, as in levels... ever notice the difference?
Greg Wilson pergunta ao General se os Forrrce foram influenciados, de alguma forma, pela fusão entre a música de dança propriamente dita e o reggae, tão patente no "
Love Money
" dos
TW Funkmasters
, já que a faixa era um hit do underground nova-iorquino e o próprio Kevorkian a cita como influência.
Good question!,
Actually, looking back, I now think that it was a sign of the times for us.

Most underground dance bands began to evolve to the fusion.
We were already doing a monthly appearance at "Reggae Vibrations", a weekly beach event down in Florida, which was only 3 blocks from the studio.
If we didn't carry the ideas right into the studio, our latin/carribean/rock roots would have taken us there eventually, I suppose.
A "entrevista" deve continuar nos próximos dias
aqui
.
Podem encontrar o "Listen to the rhythm band" no segundo volume da excelente série "
Disco not disco
", edição da saudosa
Strut
(fazes tanta falta!). Pelo que sei, o "Keep on dancin'" dos Forrrce ainda não foi reeditado e o original está a preços proibidos (+100 euros). É esperar que o diggin' dê frutos.