Break da SemanaTM : Fred Wesley - A Blow For Me a Toot For You/Four Play
O mundo do
P-Funk
é extremamente vasto e complexo de seguir, tantas são as encarnações dos grupos liderados por
Bootsy Collins
e
George Clinton
. Os
Horny Horns
de
Fred Wesley
, no álbum
A Blow For Me a Toot For You
(Atlantic, 1977) com espaço especial concedido a
Maceo Parker
, eram, tal como Bootsy, dissidentes da banda de
James Brown
apostados em fazer colidir algumas das lições aprendidas com
Jimi Hendrix
num contexto funk.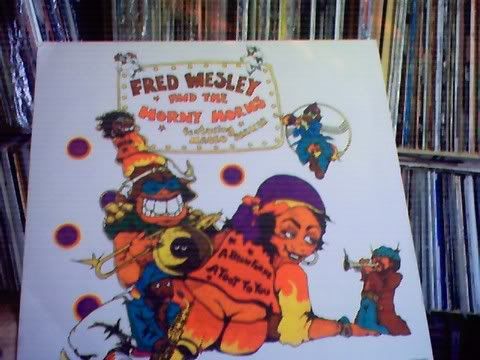 Neste álbum recentemente reeditado, os
Horny Horns
pegaram nalgumas faixas inacabadas da
Rubber Band
de Bootsy e terminaram-nas em estúdio, colorindo-as com a sua espantosa secção de metais. Daí o aparecimento dos suspeitos do costume do universo P-Funk, como
Bernie Worrell
(teclados) ou
Phelps "Catfish" Collins
(guitarras). Bootsy, claro, está em todo o lado: da bateria às guitarras passando pelas vozes e ocupando exclusivamente o lugar do baixo (como seria de esperar). Mas são os
Horny Horns
que realmente brilham aqui: liderados por
Fred Wesley
, um trombonista de excepção,
Maceo Parker
(no sax alto e tenor),
Rick Gardner
e
Richard Griffith
(ambos em trmpete) partem a louça toda, com uníssinos puramente funky e solos carregados de suor. Uma perspectiva mais técnica dos solos de
Fred Wesley
, ex-líder e arranjador da banda de
James Brown
, pode ser encontrada
aqui
.
E, como já adivinharam, se falamos deste álbum no
Break da SemanaTM
é porque há por aqui material samplável. Há e muito. Nomeadamente dois fantásticos breaks que já foram bastante usados pela comunidade Hip Hop que nunca poderia resistir ao poder sincopado destes dois momentos depois de os descobrir. Fica aqui a lista (a prova áudio está logo a seguir!):
A Blow for Me a Toot to You: (Atlantic, 1977)
* "Four Play"
Aaron Hall - "Curiosity"
Beastie Boys - "Get it Together"
Black Sheep - "Butt in the Meantime" (Drum Intro)
Digital Underground - "Packet Man"
Digital Underground - "Rhymin' on the Funk"
DJ Quik - "Deep"
GangStarr - "Step into the Arena"
Jaz - "The Originators"
Nice & Smooth - "Sky's the Limit"
Penthouse Players Clique - "FLF"

* "A Blow for Me, a Toot to You" (Drums)
Candyman - "1-900-Skytalk"
Def Jef - "Black to the Future"
GangStarr - "Step into the Arena"
Raw Fusion - "Hoochified Funk"
Sade - "Feel No Pain"
Break da SemanaTM
:
Fred Wesley and the Horny Horns - A Blow For Me a Toot For You
(áudio)
Fred Wesley and the Horny Horns - Four Play
(áudio)