BREAK DA SEMANATM : TOM SCOTT - SNEAKIN' IN THE BACK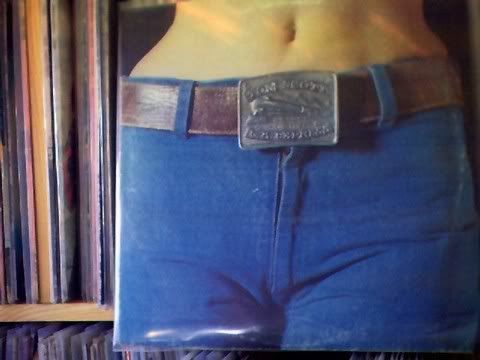 A biografia de
Tom Scott
revela um músico profissional que além de uma extensa discografia a solo possui uma longa lista de créditos de trabalhos para televisão e cinema (incluindo alguns clássicos, como
Conquest of the Planet of the Apes
ou trabalho na fabulosa série
Baretta
). Podem conferir tudo
aqui
! Não é, portanto, um nome obscuro. O que ajuda à missão de semanalmente listar por aqui breaks clássicos. Haverá alguns mais complicados de adquirir e outros que nem por isso. Este é claramente um destes últimos casos. Mas trata-se de um excelente break, incluído no álbum sem título de
Tom Scott And The L.A. Express
datado de 1973. Neste disco, tal como no seguinte, o igualmente interessante
Tom Cat
, o saxofonista
Tom Scott
abraçou com todas as suas forças o campo algo pantanoso do jazz de fusão, conseguindo no entanto não resvalar para o lado mais meloso do género que teve o seu apogeu nas edições dos anos 80 da GRP. Ou seja, criou um álbum cheio de funk, à luz de um jazz mais nitidamente "seventies". Exactamente a receita que procuramos incessantemente!
O break que hoje vos apresentamos tem a particularidade de ter sido samplado inúmeras vezes por nomes grandes do Hip Hop e não só. Prova de que um grande break pode servir de base para criações distintas. E só os grandes breaks conseguem reter a sua identidade original e, ao mesmo tempo, revelarem-se suficientemente elásticos para enquadrarem produções muito diferentes, como serão as dos
Wu-Tang Clan
ou dos
Massive Attack
(que além do break, "pediram emprestado" igualmente o Rhodes...). Por isso, e a título de prova, deixamos hoje aqui excertos do break original de
Tom Scott
e de temas dos
Massive Attack
,
Wu-Tang Clan
e
Jungle Brothers
que se apoiaram neste
Sneakin' In The Back
. O baterista de serviço, já agora, era
John Guerin
, homem com uma
impressionante folha de serviços
que vai de
Frank Zappa
a
Thelonious Monk
e
George Harrison
e que faleceu há pouco mais de um ano!!! Uma lista de samples mais exaustiva de
Sneakin in the Back
está aqui, para que possam medir a extensão da influência deste break:
Tom Scott & the LA Express: (Ode 1973)
"Sneakin' in the Back" (Drums)
3 Deep "You Better Think"
Boss "Born Gangsta"
Brand Nubian "Hold On"
Candy Dulfer "For the Love of You"
Chemical Brothers "Chico's Groove"
Common "Soul by the Pound"
Deee-Lite "I Won't Give Up"
DJ Magic Mike "Just Cruisin'"
Dream Warriors "Voyage Through the Multiverse"
Goldie "Inner City Life" (Baby Boy's Edit)
Guru "Feel the Music"
Insane Poetry "One Careless Moment"
Jungle Brothers "All I Think About is You"
Kid Frost "East Side Story"
Kool G Rap "Erase Racism"
Lionel Ritchie "Do it to Me"
Lords of the Underground "Lord Jazz Hit Me One Time" (Sax)
Massive Attack "Blue Lines"
MC Lyte "Who's House"
MC Ren "Same Old Shit"
Mellow Man Ace "Silly Rabbit"
Nightmares on Wax "Playtime"
NWA "Alwayz into Somethin'"
NWA "Sa Prize, Pt 2"
Olive "Safer Hands"
P-King "Wicked and Nasty"
Paris "One Time fo' Ya Mind"
Queen Mother Rage "Mental Erection"
Rough House Survivors "So! Survivors We Can Rhyme"
Sister Souljah "My God is a Powerful God"
Special Ed "5 Men and a Mic"
Tupac "Souljah's Story"
WC & the Maad Circle "U Don't Work, U Don't Eat"
Wu-Tang Clan "Bells of War"
X-Clan "Foreplay"
Xzibit "Hit & Run"
BREAK DA SEMANATM :
TOM SCOTT AND THE L.A. EXPRESS - Sneakin' in the Back
[
audio
]
Massive Attack - Blue Lines
[
audio
]
Wu-Tang Clan - Bells of War
[
audio
]
Jungle Brothers - All I Think About is You
[
audio
]